FINANCIAL NEWS HIGHLIGHTS OF THE WEEK
Fed Chair Powell was in the hot seat as members of Congress peppered him with questions about what the Fed is doing about hot inflation. Core CPI inflation neared a 30-year high in June.
Travel-related inflation has surged since March as the economy re-opens, driving up core inflation. The Fed is viewing this as transitory for now, but Powell was humble that forecasts are particularly uncertain.
June retail sales also showed shifting consumer spending patterns, as sales related to going out have accelerated in recent months, while sales related to staying home have lost ground.
---
 U.S. – Consumers are Heading Out and Paying Up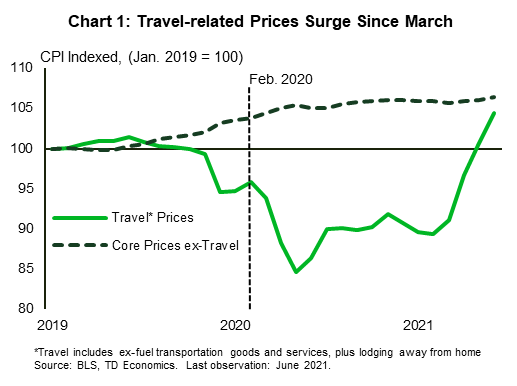 The U.S. data calendar heated up this week, and there is no hotter metric these days than inflation. With the annual pace of core inflation nearing a 30-year high (see commentary), Fed Chair Powell was on the hot seat in Congress, facing a barrage of questions about what the Fed is doing about it. Powell acknowledged that inflation is running well above the pace the Fed typically likes to see. He reiterated previous messaging that the Fed views it is a shock associated with the reopening of the economy – led by pandemic-related bottlenecks and one-time increases in the price of certain services.
However, he did acknowledge that there could be other areas where price pressures bubble up to replace the current sources of price pressures, and the Fed is watching it closely. He stated he doesn't think we will have to wait long to find out if the Fed's interpretation is accurate. He was humble that re-opening shuttered parts of an economy at this scale is unprecedented, and forecasts are particularly uncertain.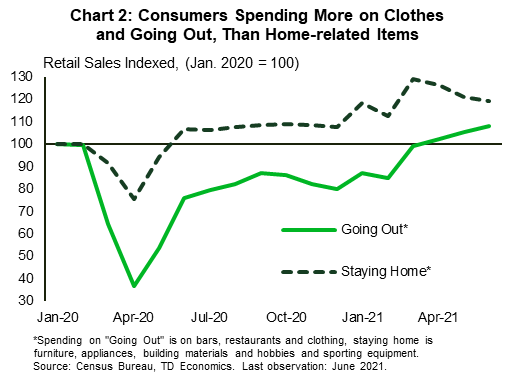 Looking at recent months, the biggest price increases have  been in "things associated with travel." After a year staying close to home, Americans are getting on the road again. Demand for travel-related goods and services is outstripping the industry's ability to ramp up, and the price increases are steep. Semiconductor shortages have pushed up prices for both new and used vehicles, with knock-on effects on car rental prices. At the same time, prices for hotels, airfares and car rentals are recovering from price plunges early in the pandemic.
Since March, these travel related price increases have accounted for over half of the monthly increase in core inflation, despite accounting for less than 18% of the core inflation basket. Stripping them out would have left core inflation running around 0.2% m/m since March (Chart 1). We wouldn't expect these monthly price hikes to go on forever, but as Powell pointed out, other areas could perk up. Medical care inflation has been decelerating sharply after big increases in 2019, and could accelerate once again. Shelter inflation, ex-hotels also decelerated earlier in the pandemic but is showing early signs of firming. There is plenty to keep an eye on when it comes to inflation.
Evidence of shifting consumer patterns as the economy reopens was also seen in the June retail numbers. Overall sales rose 0.6% month/month, ahead of market expectations (see commentary). Sales at bars and restaurants and clothing and accessory stores were both up strongly – categories that could be labelled "going out." Looking at the trend in this "going out" category, spending started to surge in March, and is now above pre-pandemic levels. On the flip side, spending on things related to staying home – furniture, building materials and sporting goods and hobbies has fallen since March (Chart 2). And, the retail sales numbers do not include spending on other affected services, like haircuts. We will need to wait until the June personal income and spending numbers are released at the end of the month to see how quickly services as a whole are rebounding.
Leslie Preston, Senior Economist | 416-983-7053
---
This report is provided by TD Economics. It is for informational and educational purposes only as of the date of writing, and may not be appropriate for other purposes. The views and opinions expressed may change at any time based on market or other conditions and may not come to pass. This material is not intended to be relied upon as investment advice or recommendations, does not constitute a solicitation to buy or sell securities and should not be considered specific legal, investment or tax advice. The report does not provide material information about the business and affairs of TD Bank Group and the members of TD Economics are not spokespersons for TD Bank Group with respect to its business and affairs. The information contained in this report has been drawn from sources believed to be reliable, but is not guaranteed to be accurate or complete. This report contains economic analysis and views, including about future economic and financial markets performance. These are based on certain assumptions and other factors, and are subject to inherent risks and uncertainties. The actual outcome may be materially different. The Toronto-Dominion Bank and its affiliates and related entities that comprise the TD Bank Group are not liable for any errors or omissions in the information, analysis or views contained in this report, or for any loss or damage suffered.