FINANCIAL NEWS HIGHLIGHTS OF THE WEEK
Consumer price inflation accelerated to 5.0% year-on-year (y/y) in May, once again coming in ahead of expectations.
Soaring prices for used cars and trucks (up 30% y/y) were a major factor in higher inflation in the month.
Job openings continue to soar, rising to 9.3 million in the latest April data. There are now as many job openings as unemployed people in America.
The Federal Open Market Committee meets to deliberate monetary policy next week. No change in policy is expected
but look for migration higher in economic, inflation and interest rate forecasts.
---
U.S. – Fed Meets as Inflation and Job Openings Soar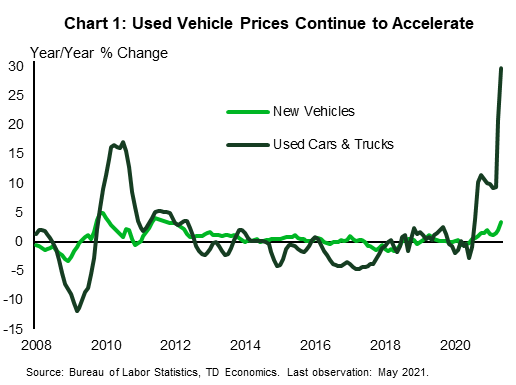 The Federal Open Market Committee meets next week and will have a lot to mull over as it determines its next policy steps. Since August of last year, the Fed has been aiming to push inflation above 2% – not for its own sake, but to allow the labor market to fully recover from the shock of the pandemic. Inflation has now pushed well above 2% – headline CPI hit 5% year-on-year (y/y) in May of this year – but the labor market is still far from full recovery – in the same month, employment was 7.6 million (5.0%) below its pre-pandemic level in February of last year.
Fed officials have beaten a consistent drum that the acceleration in price growth is "transitory" and reflects the unique circumstances of an economy emerging from a one in one hundred year health shock. They point to the outsized gains in used vehicle prices (Chart 1). Vehicle demand has risen due to the lack of public transit alternatives and supply has fallen as production of new vehicles was stymied first by the pandemic and then by shortages of semiconductors (whose demand also skyrocketed).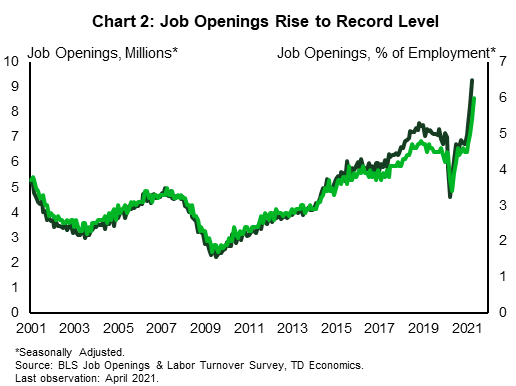 Alongside fiscal stimulus, monetary policy has certainly helped to bring demand back to the economy. The challenge is that increasingly, what appears to be holding back the labor market is not a lack of demand, but of supply. The disappointing pace of job growth over the past two months cannot be chalked up to a lack of employer demand. Job openings in April rose to 9.3 million, the highest level on record and over 20% above its pre-crisis peak (Chart 2). There is now effectively a job opening for every unemployed person, the best ratio since January 2020, when the unemployment rate was just 3.5%. Rather, the challenge is that for a number of reasons people are either reluctant or unable to fill those jobs.
This is not to suggest that the Fed should raise interest rates next week or even a year from now. Low interest rates may not solve the supply challenges, but tightening financial conditions could worsen them. The hope is that as the pandemic ends, many of the supply-side constraints will solve themselves. For example, people will be more inclined to take jobs that require close interaction with others. Still, some of the delay in returning to full employment likely reflects deeper reallocation challenges. People who have moved from waiting tables to delivering online orders may not want to go back to their old positions. Or the jobs they used to do may simply not exist in the new digital economy.
In parsing future Fed decisions, look to the evolution of their forecasts. Fed members will clearly have to adjust their near-term inflation views, but longer-term views will be more informative. Similarly, on the economic front, the near-term is likely to see more improvement, but with an increasing chance of even more fiscal stimulus down the road – the Senate this week showed their ability to pass funding for infrastructure when the logic is keeping up with China – upgrades in future years could also come with higher expectations for the federal funds rate.
James Marple, Senior Economist | 416-982-2557
---
 This report is provided by TD Economics. It is for informational and educational purposes only as of the date of writing, and may not be appropriate for other purposes. The views and opinions expressed may change at any time based on market or other conditions and may not come to pass. This material is not intended to be relied upon as investment advice or recommendations, does not constitute a solicitation to buy or sell securities and should not be considered specific legal, investment or tax advice. The report does not provide material information about the business and affairs of TD Bank Group and the members of TD Economics are not spokespersons for TD Bank Group with respect to its business and affairs. The information contained in this report has been drawn from sources believed to be reliable, but is not guaranteed to be accurate or complete. This report contains economic analysis and views, including about future economic and financial markets performance. These are based on certain assumptions and other factors, and are subject to inherent risks and uncertainties. The actual outcome may be materially different. The Toronto-Dominion Bank and its affiliates and related entities that comprise the TD Bank Group are not liable for any errors or omissions in the information, analysis or views contained in this report, or for any loss or damage suffered.