FINANCIAL NEWS HIGHLIGHTS OF THE WEEK
Job growth picked up in May, with the economy adding 559k jobs and the unemployment rate falling to 5.8%.
ISM indexes pointed to strong growth in manufacturing and services sectors in May, though supply constraints linger.
---
U.S. – Music to American's Ears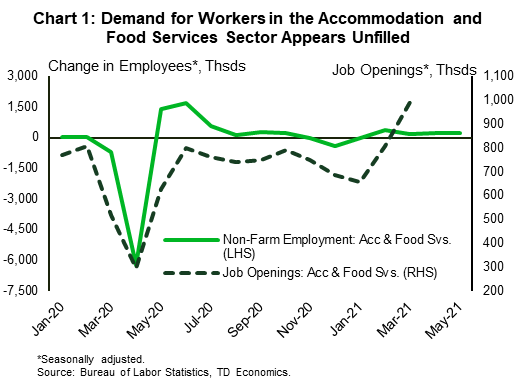 An overture to May's economic performance, this week's data set a positive tone, which we hope will play accelerando from now onward. Friday's much-anticipated employment report came in slightly lower than forecasters hoped for but had an upbeat spirit with hiring picking up in key sectors and the unemployment rate falling to 5.8% from 6.1% in April.
While challenges in finding workers, especially in the low-wage segment, continue to be highlighted in qualitative reports, (including the Fed's June Beige Book), the pickup in job growth pushes back, at least a little, on the notion that labor shortages are a major constraining factor to the economic recovery. Accommodation and food service firms have been singled out as a sector with a sizeable number of unfilled positions, as echoed in job openings data (Chart 1). This is leading some businesses to offer sign-on bonuses and higher wages. Fortunately, they appear to be working. The sector continued to lead job growth in May, with 221k positions added, accounting for 40% of all the net jobs created in the month.
According to research by the Federal Reserve Bank of Atlanta, wage pressures are concentrated in low-wage service occupations that come with the highest customer contact. While expanded unemployment benefits may be contributing to a reluctance of some people to rejoin the workforce, wage pressures point to a well-functioning labor market where workers are offered higher pay to compensate them for the higher risk of exposure to COVID-19. Nonetheless, half of states have decided to halt federal unemployment subsidies by mid- to end of June in an effort to bring more workers to the labor market. This may hasten the job search for some but will leave those unable to come back to work due to health concerns or lack of childcare to suffer losses in income.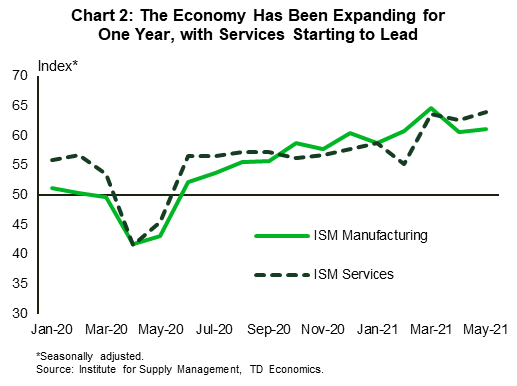 Other economic data also played in a major key this week. The Institute for Supply Management's (ISM) reports on manufacturing and services sectors registered a full year of growth in a single month in May. The services sector broke its growth record set earlier this year in March, while maintaining an advantage over the manufacturing sector – a phenomenon more typical to "normal" times (Chart 2). Both sectors' demand indicators gained momentum, while supply bottlenecks seem to have reached a high note with both backlog of orders sub-indexes hitting historical highs.
The Fed continues see these "supply-demand mismatches" as transitory. In a speech this week, Fed Governor Brainard noted that these mismatches are evident "on both the employment and inflation sides of [the Fed's] mandate", but also highlighted that the biggest contributors to core PCE last month were categories that are not the typical drivers of inflation. With that, it may be a good time to lower the volume on inflation worries, sit back and enjoy the tune of growing economic momentum.
Maria Solovieva, CFA, Economist | 416-380-1195
---
 This report is provided by TD Economics. It is for informational and educational purposes only as of the date of writing, and may not be appropriate for other purposes. The views and opinions expressed may change at any time based on market or other conditions and may not come to pass. This material is not intended to be relied upon as investment advice or recommendations, does not constitute a solicitation to buy or sell securities and should not be considered specific legal, investment or tax advice. The report does not provide material information about the business and affairs of TD Bank Group and the members of TD Economics are not spokespersons for TD Bank Group with respect to its business and affairs. The information contained in this report has been drawn from sources believed to be reliable, but is not guaranteed to be accurate or complete. This report contains economic analysis and views, including about future economic and financial markets performance. These are based on certain assumptions and other factors, and are subject to inherent risks and uncertainties. The actual outcome may be materially different. The Toronto-Dominion Bank and its affiliates and related entities that comprise the TD Bank Group are not liable for any errors or omissions in the information, analysis or views contained in this report, or for any loss or damage suffered.